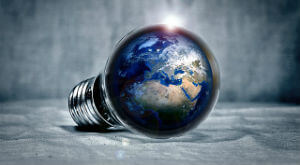 Saving energy when celebrating Valentine's Day can start simply by enjoying your night at home with your significant other rather than driving to a restaurant. Here are some unconventional ways to set the mood and save energy, which is good not just for the environment but your wallet too.
The perfect atmosphere
Nothing says Valentine's Day like a candlelit dinner. Dim the lights or use candles to create a romantic ambience. This is the perfect time to present her with Valentine's gift. If you're not sure what to buy there are many suggestions that you can find here. Remember, this is a meal for you, not about children, work issues or finances so relax and enjoy your time reminiscing and planning your future.
Slow-cooker meal
Less time spent cooking means more focused time for each other. Slow-cookers or crockpots use less energy than an oven and can be used for much more than just soups and stews. Slowly cooked lamb shanks, Moroccan chicken or Beef Stroganoff can be prepared well in advance with a slow-cooker. You can even make a cheesecake in a slow-cooker.